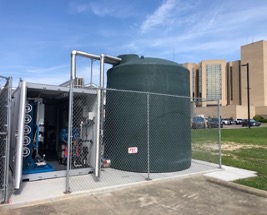 Emergency Water Supply Systems
"The most expensive hospital is the one that fails."
-2008-2009 World Disaster Reduction Campaign
Onsite Water is the national leader in providing Hospital facilities with Emergency Water Supply (EWS) Systems.
OWM has designed and installed over 75 major EWS systems in the United States, extending from Level 1 Trauma Centers to Community Hospitals.
The Center for Medicare and Medicaid Services recommends that participating hospitals have a plan in place to operate in emergency situations where municipal water is unusable or is not available.
Municipal supplies can and have been be disrupted by natural disasters such as hurricanes and tornadoes and by the failure of the increasingly aging municipal water infrastructure.
OWM can Study, Design, Implement, and Maintain (SDIM) an EWS system for both industrial and potable water. Our systems can meet critical industrial water needs such as cooling tower, chiller,and boiler make-up, fire suppression and the like.
In addition, our systems can supply critical care services such as dialysis, decontamination, radiology, medical air, and eye washing. Our systems can help healthcare facilities meet their commitment to their communities in times of natural disasters and emergency situations.
Our EWS systems can be designed for continuous industrial use to pay for themselves over time and provide healthcare facilities significant on-going water savings.
There is no need to risk closure and evacuation of a healthcare facility – and the enormous associated reputational and financial costs- when your EWS system can pay for itself and provide a high return on investment.
A North Carolina Hospital Association Strategic Partner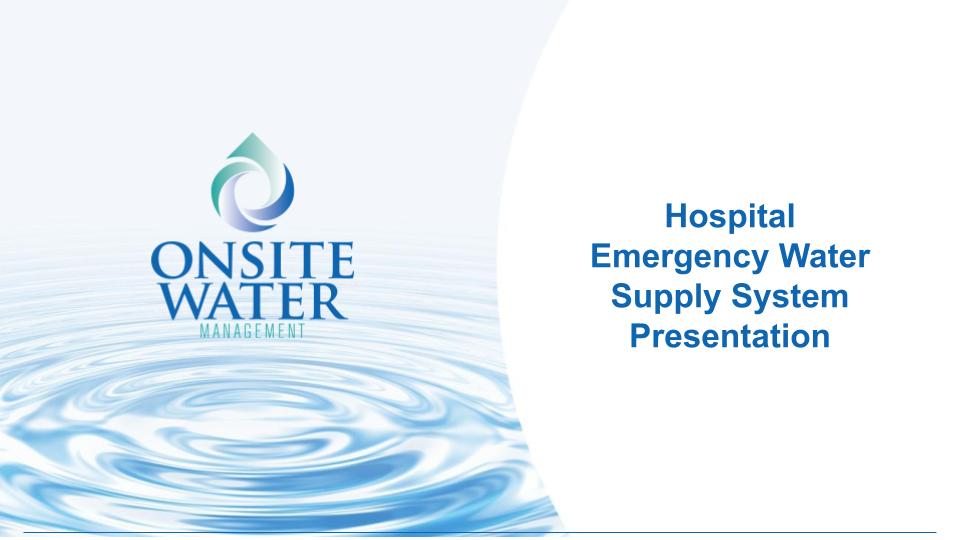 Download project PDF above by clicking on image.
Custom High Purity Water Systems for Sterilization Processing Department (SPD)
Specifically designed to produce water that meets AAMI TIR34 water quality specifications for medical device reprocessing and sterilization in hospitals. Standard systems are furnished with all the treatment equipment fully pre-piped, pre-wired, and factory-tested on a common skid package to minimize field installation and start-up costs. The standard system includes the following equipment: • Pre-Treatment (inlet filter / carbon / softener) • Reverse Osmosis (RO) machine • RO water storage tank • Stainless steel distribution pumps • DI exchange polishers (portable exchange type) • Ultraviolet (UV) sterilizer • Final sub-micron filter (0.2 micron) • Central control panel with purity monitoring  
Water Softeners – New Installs and Replacements

Featured Projects
Learn more about us through our Featured Projects