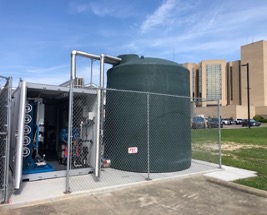 UNC Health Southeastern
Southeastern Regional Medical Center, located in Lumberton, North Carolina, is the 337 bed regional medical center, of UNC Southeastern Health.
In 2016, the hospital was without running, potable water for 15 days after extreme flooding triggered by Hurricane Matthew submerged pump stations for municipal water treatment facilities. The hospital was eventually able to get temporary water service when water tankers and pumps arrived, but at a significant cost.  Lesson #1 learned was that the loss of water and wastewater service intensified the crisis.
In 2017, Onsite Water began its exclusive process to study, design, install, and maintain (SDIM) an emergency water supply system (EWSS) to provide the complete water needs of the hospital during emergency outages.  The installed system is comprised of multiple wells, filtration equipment, disinfection equipment and over 5000 gallons of potable water storage. It can provide water to the hospital at over 100 gallons a minute.
Need More Information About Our Services?